Heller Fairgrounds



Official Name

Heller Fairgrounds

Alias

Test Site Number 7

Planet

Earth

Continent

North America

Country

United States

State

Unknown

City
The Heller fairgrounds is an Amusement Park owned by a man named Dr.Heller and located in a deserted part of Champion City. It doesn't seem to get much (if any) business anymore possibly due to the poor choice of location, but the rides are still operational and offered as a service. Dr. Heller is the sole occupant and, operating out of the Old Funhouse, he spends most of his time inventing new non lethal weaponry. Besides offering carnival rides and inventing weapons, Dr. Heller also rents out chickens and offers Aromatherapy and Laser Hair Removal services. After leaving his card with the Mystery Men, they travel to the fairgrounds to acquire weapons for an upcoming fight. A while later, Dr. Heller is in the Old Funhouse, watching the news and looks on proudly as the Mystery Men make their televised debut after having defeated the villain, Casanova Frankenstein (greatly assisted by the weapons he provided them).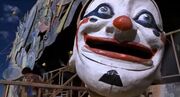 Ad blocker interference detected!
Wikia is a free-to-use site that makes money from advertising. We have a modified experience for viewers using ad blockers

Wikia is not accessible if you've made further modifications. Remove the custom ad blocker rule(s) and the page will load as expected.