Casanova Frankenstein's Limo



Official Name

Unknown

Aliases

Casanova Frankenstein's Limo, Casanova Frankenstein's Limousine, Limousine, Limo

Creator

Unknown

Owner

Casanova Frankenstein

Users

Casanova Frankenstein, Tony P, Tony C

Classification

Vehicle, Limo, Car

Status

Unknown
Casanova Frankenstein owns a black 1979 stretched Corvette "limousine" that he and members of his organization such as Tony P and Tony C frequently use. After being released on parole, Casanova uses it to travel from the Insane Asylum where he was locked up to his mansion. It was attacked by the Mystery Men and sustained minor damage, including several dents, two broken windows and a cracked windshield. It is unknown whether or not the limo was near the mansion when it was destroyed by the Psycho-frakulator and therefore, it's current whereabouts and status are unknown.
The license plate on Casanova Frankenstein's Limo reads CASANOVA.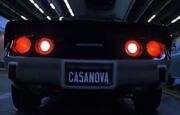 Ad blocker interference detected!
Wikia is a free-to-use site that makes money from advertising. We have a modified experience for viewers using ad blockers

Wikia is not accessible if you've made further modifications. Remove the custom ad blocker rule(s) and the page will load as expected.